Low levels of vitamin K have been linked with low bone-mineral density, which may increase the risk of fractures. Did you know that pine nuts may help?
Health Benefits of Pine Nuts
Pine nuts are high in vitamin K, phosphorus, magnesium, zinc and manganese[1,2], which contribute to the maintenance of normal bones[3]. Pine nuts are also high in polyunsaturated fat, vitamins B1, E, and minerals such as iron and copper[1,2]. In addition, they are a source of fiber, potassium, vitamins B2 and B3.
Where Pine Nuts Come From
The pine nut cone takes three years to mature[4] and there are approximately 29 species of Pinus produce seeds. The species Pinus pinea L. is found in the Mediterranean basin; the main producing countries being Turkey, Italy, Portugal and Spain. There are several species in the Far East, including Pinus koraiensis, P. sibirica, P. yunnanensis, and P. pumila, all of which are very different in origin, shape, size, color and taste. North Korea is the main producing country, followed by China, Russia, Afghanistan and Pakistan.

Fun Facts About Pine Nuts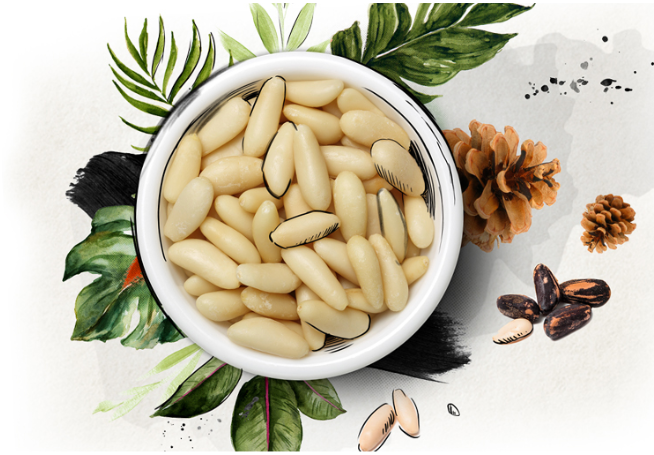 Did you know that pine nuts have been enjoyed by the Greeks and Romans since time immemorial? The Roman legions used to carry pine kernels as provisions on long journeys.
Also, thanks to their exquisite flavor pine nuts are used all over Europe as a culinary ingredient widely used in confectionery and the world-famous "pesto" sauce.
[1]U.S. Department of Agriculture, Agricultural Research Service. FoodData Central, 2019. fdc.nal.usda.gov.[2]Regulation (EC) No 1924/2006 of the European Parliament and of the Council of 20 December 2006 on nutrition and health claims made on foods. [3]Commission Regulation (EU) No 432/2012 of 16 May 2012.
[4]Ciesla, W. M., & M Putter, C. A. J. (1998). Non-wood forest products from conifers (No. FAO NWFP-12). FAO, Roma (Italy) European Forest Institute, Joensuu (Finland) Department of Agriculture, Washington, DC (EUA). Forest Service.